"Get A Life" aired from 1990 to 1992, and even though it had a short run, Chris Elliott has never been better remembered for ANY major network television series.
My personal favorite episode (out of the measly 30-something), was "The Big City". Chris Peterson, the loser, 30-year-old, packs a few things and takes a trip to the Big City. He isn't exactly prepared for the sinister iconoclasts of moral family values that dwell there and is drugged by a drink, packed with a "mickey".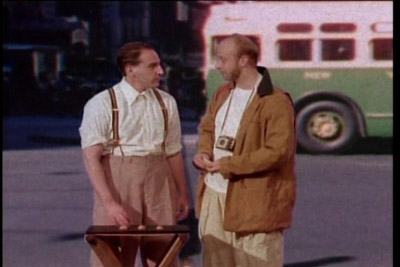 A pretty, young newswoman picks up Chris at his time of grief and wants to print a front page story about his loss, with the banner headline being, "BOY LOSES WALLET. CITY HANGS ITS HEAD IN SHAME." The Media dubs him "Walletboy" and he becomes a huge celebrity as the city buys him a 20 story mansion, a swiss bank account worth millions, and hands to him the key to the city.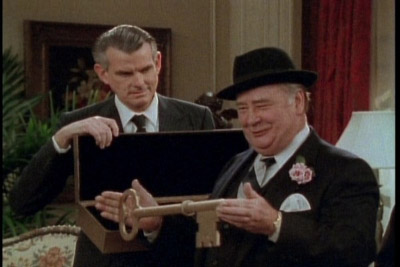 I won't ruin the rest of it, but instead recommend buying volumes 1 and 2 of Get A Life's best episodes at Tower, Best Buy, or wherever DVD's are sold. Chris Elliott's comedy is overly-literal, over-exaggerated, and completely unrealistic and silly which is what makes his work on this show one of the funniest tv shows you'll ever see. Then again, it depends on who you are.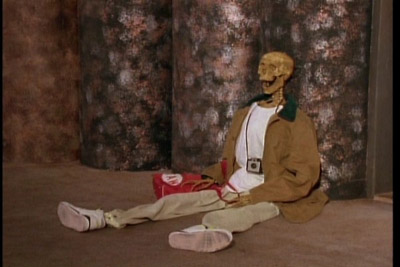 Season 1 (Sept 1990-May 1991)
                                         Show 1 - Terror On The Hell Loop 2000
                                    Sept 23 1990
                                    Chris persuades Larry to take the day off work and go to an amusement
                                    park to ride the all-new Hell Loop roller coaster, but they get stuck
                                    in the loop.
      Show 2 - The Prettiest Week of my Life  Sept 30 1990

                                    Chris enrolls at the Handsome Boy modeling school, and becomes a male 
                                    model named Sparkles.  Unfortunately his career is shattered when asked
                                    to pose topless, but Chris goes on to fulfill his dream of appearing in
                                    a runway show at a department store.   
                                          Show 3 - Dadicus  Oct 7 1990
                   In an
                                    effort to preserve his status among the paperboys, Chris persuades
                                    Fred to compete in the annual father & son paperboy tournament.  It seems
                                    that things have changed quite a bit since their old days of sack races
                                    and egg-carrying however. 
                                      Show 4 - A Family Affair  Oct 14 1990
                   Chris
                                    falls in love with Sharon's sister younger sister Charleene,
                                    who has just broken up with her boyfriend.  They have a brief but
                                    torrid affair.
                                          Show 5 - Pile Of Death  Oct 21 1990
                   When
                                    his beloved childhood playground is condemned by the city, 
                                    Chris decides to raise money to save it by setting a world record
                                    for having stuff piled on top of him.
                                          Show 6 - Paperboy 2000  Nov 4 1990
         
                                    Chris and the other paperboys are fired and replaced by the new totally
                                    automated Paperboy-2000.  When the machine runs amok, Chris has to come
                                    to the rescue.  
                                          Show 7 - Drivers License  Nov 11 1990
                   Chris
                                    falls in love with a new waitress, but she won't go out with him
                                    unless he picks her up in a car.  Unfortunately Chris does not have a
                                    license.  After flunking the driving test, he steals Fred's car to go 
                                    on the date and winds up in a high-speed chase with the police. 
                                          Show 8 - The Sitting  Nov 18 1990
                   Chris
                                    gets a job as a housesitter for a woman along his paper route, 
                   but the house turns out to be haunted.
                                    
                                          Show 9 - Bored Straight  Dec 2 1990
                   After
                                    accidentally straying into the bad side of town and 
                                    being taunted by a street gang, Chris decides tries to try
                                    and rehabilitate the young ruffians.
                                         Show 10 - Zoo Animals on Wheels  Dec 16 1990
                    Much
                                    to Sharon's horror, Chris auditions for her local theater group
                                    and is cast as the male-lead in their latest musical production. 
                                         Show 11 - Roots  Jan 6 1991
                    While searching
                                    through a box in the attic, Chris finds an old receipt 
                                    and a photo of himself as a baby with an Amish couple.  Chris realizes
                                    he must have been adopted and his real name is "Emmett".  He then leaves
                                    on a quest to find his real parents.  Fred and Gladys must find him. 
                                         Show 12 - The Counterfeit Watch Story  Feb 3 1991
                    Chris
                                    saves up to buy a $100 Chrono-Sync 2000 underwater watch, but it
                                    falls apart the very first time in the shower.  He then becomes part of 
                                    a sting operation in an attempt to catch the crooks who are responsible. 
                                     Show 13 - Chris Vs. Donald  Feb 10 1991
                    The
                                    Peterson's have their annual family reunion, but Chris dreads the
                                    appearance of Donald, his more-successful arch rival in the family.
                                        Show 14 - Chris Wins a Celebrity  Feb 24 1991
                    Chris
                                    enters a contest and wins a dream weekend living with his 
                                    favorite TV talk show host Sandy Connors. 
                                    Show 15 - Houseboy 2000  Mar 10 1991
                    When Chris
                                    burns down Sharon's kitchen, he agrees to act as her 
                                    servant to pay for the damage.  She then proceeds to break his 
                                    will and turn Chris into her willing slave.  Larry must try and 
                                    deprogram him. 
                                     Show 16 - Married  Mar 24 1991
                    Chris falls in
                                    love with his soul-mate: leggy supermodel Nicolette 
                                    Preston.  They have a whirlwind romance, marriage, and divorce all 
                                    in one day. 
                                    Show 17 - Camping 2000  Mar 31 1991
                    It's time
                                    for Fred's regular solo camping trip, but Chris and Larry 
                                    manage to convince Fred to let them go along.  Once Fred manages to
                                    lose them in the woods, Chris and Larry eat wild berries which cause
                                    them to believe Fred is a homicidal maniac out for blood. 
                                     Show 18 - The Construction Worker Show  Apr 7 1991
                                    Chris idolizes construction workers, and his dream comes true when Fred
                                    hires three of them to extend the kitchen.  Chris will do anything to be
                                    accepted by them, but his loyalties are tested when they try to rip-off
                                    his father.  Chris is forced to engage in a dreaded tool-belt fight.
                                     Show 19 - The Big City  Apr 21 1991
                    Chris decides
                                    to finally visit the big city, but upon arriving somebody
                                    slips him a mickey and his wallet is missing.  When a newspaper reporter
                                    hears the story, her article dubs Chris "Walletboy" and he becomes the
                                    darling of the city.  Everything crumbles when it is discovered that he
                                    actually just left the wallet at home. 
                                         Show 20 - Neptune 2000  Apr 28 1991
                    The
                                    $19.99 submarine Chris ordered 20 years earlier finally arrives,
                                    but he has to persuade Fred to help him build it.  They then become
                                    trapped underwater while taking the new sub for a test ride in the 
                                    shower.  
                                      Show 21 - The One Where Chris and Larry Switch Lives  May 12 1991
                
                                    Chris activates a curse when he removes an arrowhead from an indian 
                                    burial ground.  The punishment: he must live his worst nightmare and
                                    trade lives with Larry. 
                                       Show 22 - Psychic 2000  May 19 1991
                    Chris
                                    chokes to death while eating his morning cereal, he then comes
                                    back to life with the ability to see "flashbacks" from the future.
                                    He has a vision of Sharon being murdered, but nobody believes him.
                                    
                                     Season 2 (Nov 1991 - Mar 1992)
                                     Show 23 - Chris Moves Out  Nov 9 1991
                    Much to
                                    his parents amazement (and joy), Chris finally leaves home 
                                    and rents a room with a "garage motif" from gruff ex-cop Gus Borden. 
                                    Show 24 - Larry On The Loose  Nov 16 1991
                    Following
                                    a talk from Chris, Larry decides to leave Sharon and run
                                    away from home.  Chris and Gus search the town for him, but after 
                                    seeing Chris again Larry is gone for good.   
                                     Show 25 - Meat Locker 2000  Nov 23 1991
                    When
                                    Chris chases off Sharon's new boyfriend, she must use him to take
                                    her former beau's place at a dinner party.  Chris and Sharon get trapped 
                                    in her walk-in living room meat locker, and are forced to "share warmth".
                                    Chris tells Sharon that while he has considered her an evil, castrating,
                                    she-creature from hell, he also always found her to be quite shapely. 
                                     Show 26 - Health Inspector 2000  Nov 30 1991
                    Chris
                                    joins the glamorous world of food inspecting but he is sickened by
                                    what he finds, until the $5 bribes start coming in. When his conscience
                                    catches up with him, Chris agrees to testify before a special committee.
                                    Show 27 - Chris Gets His Tonsils Out  Dec 7 1991
                    Chris
                                    goes to the doctor after having a sore throat, and is terrified
                                    when told he needs a tonsillectomy.  With his voice gone after the
                                    operation, Sharon torments Chris.  His voice returns just in time for
                                    Chris to drop dead as one of the .001% who die from tonsillectomies. 
                                        Show 28 - Prisoner Of Love  Dec 14 1991
                    When
                                    his pen-pal Irma Jane Cooley is released from jail, Chris falls
                                    in love and convinces her to move in.  Unfortunately Irma starts 
                                    rebuilding her criminal empire, and Chris becomes her hostage when
                                    the police raid the place.  
                                    Show 29 - Chris The Escort  Dec 21 1991
                    Chris
                                    goes to work at an escort service and becomes the kept man of
                                    an older woman, at least until her husband returns from the hospital. 
                                    Show 30 - Girlfriend 2000  Jan 12 1992
                    After
                                    being hit by her car, Chris becomes madly obsessed with a woman
                                    scientist named Tricia Paddington.  He decides to start stalking her
                                    until she goes out with him.  Meanwhile, another woman stalks Chris
                                      Show 31 - Chris' Brain  Jan 19 1992
                    The neighborhood
                                    is overrun by toxic waste, but Chris and Gus refuse
                                    to leave the house. After almost dying, they wake up to discover Chris
                                    has become a genius and Gus has an aptitude for origami.  Chris decides
                                    the best use for his new abilities is to win every spelling bee.
                                         Show 32 - Bad Fish  Feb 2 1992
                    Chris decides
                                    to throw a party, and gets a wheelbarrow of shellfish
                                                        as the main course.  Nobody but Sharon shows up, and the fish turns
                                                        out to be spoiled.  It causes anyone who eats it to have temporary
                                                        amnesia.  Chris convinces them that they enjoy everything he does,
                                                        such as dancing to "Alley Cat" all night long.
                                         Show 33 - Spewey and Me  Feb 9 1992
                    SPEWEY
                                    the alien (Special Person Entering the World, Egg Yolks), crashes 
                                                        into the back yard.  Chris wants to protect him from the evil G-Men, but
                                                        Gus sees the being bringing big bucks, perhaps from Michael Jackson's zoo.
                                                        In the end, the alien turns out to be delicious (and self-saucing). 
                                         Show 34 - 1977 2000  Mar 1 1992
                    Chris makes
                                    a time travel drink to go back in time, in an attempt to
                                                        prevent Gus from being thrown off the police force for taking a leak 
                                                        on his captain.  Unfortunately the alternatives turn out to be worse. 
                                         Show 35 - Clip Show  Mar 8 1992
                    Chris takes
                                    his first plane ride, but he falls out of the airliner when 
                                                        he thinks "EXIT" is a door to the rest room.  Chris then precedes to 
                                                        recall situations (episodes) from his past in flashbacks.  "The End?"
                                                        Clips from the following episodes are used: 1, 2, 6, 7, 9, 10, 12, 14,
                                                        19, 18, 20, 33.  Next is a montage sequence of Chris getting injured.