The I-theater, by BMG, is a new head mounted display that utilizes older technology, to give you the most compact, simplistic HMD for an affordable price. The I-theater boasts about 210,000 pixels in its display, making it ideal for watching movies on, but not for reading small text.
When you hook up the I-theater for the first time, what you're amazed and thrilled by is the breakthrough design! The I-theater is a most compact product that folds up like a pair of glasses with two earbuds that clip to the stems. The earphones are not that great in quality, which is a drawback, and what's more they're not detachable. So if they go bad, you have to get special repairs done for this unit and God only knows where you'll go for THAT!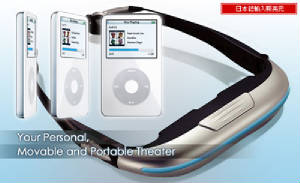 Overall, I'd have to say that if you're looking for a gaming experience on an HMD, you better steer clear of the I-theater. Although, for a portable headset, games on 16-bit and previous consoles look great on it, because they're much brighter and colorful in nature, and bright and colorful looks good on these, which is why they're ideal for movies and such. And the battery pack that powers the unit is unbelievably small and lasts upwards of 8-10 hours! Plus, you can also hook these up to your Ipod video, which is quite an awesome concept for completely portable, high quality viewing on the road. The only concern I have is how close your I-pod would have to sit to the battery pack, seeing as how the cord between the two is only two inches long!! Oh well, I'm sure you'll keep both in a little carry case or something.
OVERALL SCORE: 7